Getting Lucky in Hollywood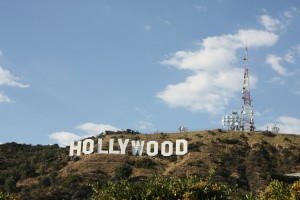 Los Angeles is the entertainment industry mecca, and while it's  helpful to live in the city to gain traction and success, it is not  entirely necessary.
Our team has compiled 7 tips and strategies to help you stay  relevant in the eyes of Hollywood producers, especially if you  don't live in LA.
1. Create A Social Media Presence For Yourself
Social media is the simplest, most inexpensive, and accessible way to build a brand for yourself. Make it known to your followers/friends who you are and what makes you tick. Develop your unique voice, and build an audience with it!
Having the ability to market yourself is becoming about as important as your project itself – if you don't sell it, who will? Creating an online presence using sites like YouTube, Twitter and Facebook is a great way to connect with an audience, engage with like-minded people and stay up to date with the goings on in the Industry.
Another viable option is to create a blog! You never know who may stumble across your personalized site and like what they see…
Take Diablo Cody, for instance. She started out putting her thoughts and ideas on a blog, which ended up catching the eye of Hollywood producers. She later went on to write the screenplay JUNO, which won the Oscar for Best Original Screenplay in 2008.
Twitter is another great forum to showcase your creative ideas and get noticed. The hit TV show "$h*! My Dad Says" began as the Twitter feed of a semi-employed comedy writer, Justin Halpern, who moved back in with his parents. One re-tweet led to another, and Justin went viral within a month! He was mentioned on The Daily Show and by various celebs on social media, and the rest is history.
2. Make New Connections + Foster Existing Ones
It's no secret that making connections is everything in Hollywood. In a town where it's all about who you know, networking and putting yourself out there early and often will give you the best chance at meeting the right people. Think of the guy you traded notes with in "Screenwriting 101" back in college, or even the barista at your local coffee shop who moonlights as a filmmaker… these are the people you should be connecting with.
You never know whose assistant (and potentially future executive) you're talking to… newcomers are breaking out and making it big regularly, so it's important to approach your networking strategy with that mindset.
If you don't know anyone personally who is also in the industry, join a local screenwriting group. You never know which person in your sphere of influence might be your next confidant or mentor. And even if your new contacts aren't going to help you become the next big thing, at the very least you have a group of like-minded people to bounce your ideas off of. How bad could that be?
3. Read Up On Industry News + Do Research
Social media is not the only way to stay connected in Hollywood. There are plenty of news outlets that are dedicated to entertainment and screenwriting news. Deadline Hollywood is a great resource for staying up to date with what is happening in the industry and what deals are being made.
Slash Film is a film blog that will help you stay current with what the industry is buzzing about. Staying in the loop with the industry will not only make you more knowledgeable (and therefore able to create more marketable projects), but will also make you feel more tied to Los Angeles, even when you live elsewhere.
You should also read as many screenplays as you can get your hands on and analyze how they were visually interpreted on the big screen. Familiarizing yourself with what works and what doesn't will help you hone in on your strengths and foster creativity. Screenplay archives for television shows and movies can easily be found online with a simple Google search.
4. Enter a Screenwriting Contest
Check out local and national screenwriting contests and submit your work! Having a contest win under your belt will get your script some recognition and get your name out there. Websites like Film Free Way enable you to apply to several contests at once. This one is great because it's also free to sign up.
5. Take a Class
If you're not quite ready to enter your screenplay into a competition, consider taking a creative writing or screenwriting class at your local college. Perfecting your craft means always growing and learning, and taking a class will help you identify your strengths and weaknesses in a constructive environment. Another added bonus is you'll expand your network by making local connections (tip #1 on our list)!
6. Attend Pitch Fests + Film Festivals
Many cities other than LA host Film Festivals and Pitch Fests; think Comic Con, SXSW, Sundance, to name a few big ones. There are also lots of smaller festivals that are more accessible. These events present the perfect opportunity to meet some new contacts, take in some quality films, and connect with the industry you are apart of.
7. Take an Annual Trip to LA
It's a good idea to visit to the hub of the Industry at least once a year to foster the relationships you do have in the area. Such a trip is a great opportunity to stack any pitch meetings you may have on your to-do list. Pitching to a producer in-person is more effective than over the phone, for obvious reasons.
**Please note: all the horror stories you've heard about LA traffic are true…plan accordingly as executives do not appreciate a late arrival!
Whether you are a seasoned screenwriter or just starting out, these tips should help you hone in on how to connect to Hollywood, even if you don't live in LA.
Your main takeaways should be: always, always be making new connections and fostering existing ones, and do your research!
Have any other tips or ideas that we might have missed? Comment below!