This has been a very busy year for us here at Voyage Media!  Our clients are making huge strides in getting their projects made and manifesting their careers as successful Hollywood writers and filmmakers.
So, as the end of the year approaches, we would like to take this opportunity to reflect on the year and showcase some of our esteemed clients and their wonderful project successes!

VALLEY UPRISING
Creators: Nick Rosen & Pete Mortimer
Nick and Pete came to us with a rough cut of their documentary. They joined our Professional's Program to solve some core creative problems with their storyline and ended up creating an amazing, award-winning documentary.
Voyage ended up executive producing the documentary with narration by Peter Sarsgaard. The film has won the GRAND PRIZE in all five festivals in which it has competed. Valley Uprising is also available on Blu-ray, DVD, or digitally through the Sender Films website.
UNBRIDLED
Creator: Marilu Norden
Rising through the ranks of our Book-to-Screen program, Marilu had one of our producers and screenwriters adapt her award winning book and true story into a one-hour TV drama.
We also worked with Marilu to create a stunning visual pitch lookbook, which helped the project picked up by two successful showrunners!. The project is now being shopped around to TV networks as a Voyage Original.
STRANGER
Creator: Shaun Cunningham
Shaun signed up for an Insider Strategy Session for his film project, Stranger. The script read great so we decided to set the project up in our Originals program, together with co-producer, John Crye.. What started as a seed turned into a plant under Shaun's writing ability and our guidance.  Shaun's past film screened as an Official Selection of the American Independent Film Festival and he would like STRANGER to be the next big step in his film career.
THE TRIBE
Creator: Rose Cole
Rose was a well-known Internet personality and holistic healer.  She came to us with a desire to go mainstream and get her own TV show. We helped her by developing an entire personal brand strategy, new website, reality format, treatment and sizzle reel – now her series, The Tribe, has been optioned by producers, has a showrunner attached, and is currently being shopped to networks.
THE BLINDSPOT
Creator: Martin Rausch
Martin Rausch is an unlikely producer (he's an academic intellectual) from Switzerland, but after completing a Professionals Program and working with producer Bonnie Solomon, Rausch has a partially financed documentary that is quickly gaining momentum as one of our Originals.  In fact, the filmmakers are currently running an Indiegogo campaign to raise money for the project, and have raised nearly half their goal!
Here's what Martin has to say:
"Voyage provided me with professionals who identified what needed to be done, what needed to be improved, and they helped me achieve it!" 
-Martin Rausch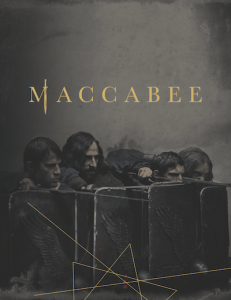 MACABEE
Creator: Benjamin Bindell
Producer Benjamin Bindell first approached us needing visual pitch materials to pitch his project.  We worked with Bindell to create a lookbook, and we are now working with him to help him write his screenplay in our Professionals Program.  The project is set up as an Original and with major A-list producers as well!
IMMANENT
Creator: Catherine Arne
During her Professionals Program, Catherine executed a market-based rewrite and also developed a clear go-to-market pitch and packaging strategy.  As the program came to a close, it was clear that this script was a winner, so we picked it up as an Original and then set up a coproduction with producer John Crye (MEMENTO, DONNIE DARKO).
Catherine proved to be such a strong screenwriter, we've now started giving her paid screenwriting assignments, helping adapt books into screenplays. She is currently a member of the Professional's Program once again, developing a TV project called Psychopath Nation with producers Regina Lee and John Crye.
CLOCKWORK
Creators: Susannah Farrow & Dale Trott
This extraordinary writing team has so far completed two Professionals Programs with us, and both projects were set up as Originals and optioned by producers right out of the gate! Their most recent project, Clockwork, is currently being shopped around to production companies.  Susannah and Dale are also now getting paid writing assignments from us. They have a real knack at writing horror and supernatural stories and have developed a great, professional and personal relationship with producer, Elizabeth Kushman.
Here's what Susannah has to say:
"Voyage provides the assistance, support and direction that you need to move forward to get across the line. They really work in the business… They've been around the pond, they know people, and they have networks and connections. If you want to make it as a professional in this business, then these are the guys who can help you get there."
-Susannah Farrow & Dale Trott
CONTINENTAL DIVIDE
Creator: Shilpa Sunthankar
Shilpa has been working in the industry for a while and came to Voyage for an Insider Strategy Session with the goal to make the leap to writing/directing films full time as a career. She was later invited into our Professionals Program and subsequently her first project, Continental Divide, was optioned, so she is well on her way to achieving her goal!
The Devil's Breed
Michael Faunce-Brown
After adapting his novel to a screenplay and completing a Professionals Program, Faunce-Brown's project was set up as a Voyage Original.  We are in development on the screenplay, negotiating with a director, and are currently shopping the rights to the book as well.
SIBLINGS
Creator: Juan Manuel Borbolla
Juan is a former studio executive at WB in Mexico and was involved in the production of 8 Mexican movies.  Juan came to us with this project because he wants to shoot the movie with american actors, and the story told in English.  Although he is currently in his Professionals Program, his project has been set up as a Voyage original and is already being shopped around as he continues to polish his screenplay.
STAN
Creator: Richard Wold
Richard Wold is an author who first approached us in need of a treatment based on his book.  He is in both our Book-to-Screen progam and our Professionals Program to complete the screenplay, execute business plan and distribution strategy, create a lookbook , with Voyage prepping to bring the project to market.
THE NEW SWITCH
Creator: Gary Shelly
Gary Shelly is an author/screenwriter currently in a Professionals Program with Voyage producer Monnie Wills.  Gary came to us through an Insider Strategy Session with a screenplay for his project, and we are currently developing it as a novel/graphic novel and preparing to go to market as a Voyage Original, for both a publishing deal and film financing.
A FIRE IN THE MIND
Creator: Ken White
A Fire In the Mind is a novel based on a True Story. After completing a screenplay adaptation and working with Voyage on distribution strategy, White's project received a LOI (letter of intent) from GoDigital, Inc. to be the domestic distributor. This is a well-designed film for limited release, targeting art house theaters in larger markets.
Here's what Ken had to say:
"As a writer, especially since I did not live in Los Angeles, I was seeking industry access and legitimate, respected experts to help me understand what I needed to do to be taken seriously. Voyage gave me that.
I've now been involved with three of Voyage's programs and thanks to the work I did in the Distribution Deep Dive, I now have a Letter of Intent from Amplify to distribute a proposed film based on my screenplay, "A Fire in the Mind."
Prior to working with Voyage, I considered myself a decent writer with some access and knowledge of the industry. After working with Voyage, I've now learned skills and strategies that have elevated my writing and understanding of the business. I would not be where I am, and certainly would not have an LOI in place, if it weren't for the practical, professional guidance of Voyage's team.
Voyage doesn't TALK about doing projects. They get projects DONE. Their actions speak much louder than the words of other, so-called industry insiders. I trust them to efficiently and effectively guide me on my journey toward becoming a professional screenwriter and producer."
-Ken White
PIGEON BLOOD RED
Ed Duncan
Ed came to us wondering how his book could be adapted for film. After learning what it would look like and working with us to develop a new cinematic book cover and distribution strategy, he jumped at the opportunity to have a screenplay written by one of our producers and a professional screenwriter. Now the project has received a LOI from GoDigital and Ed is in a Professionals Program to learn how to target buyers and pitch his project.
Testimonials
"I got so much guidance out of my time with Voyage, but one of the greatest lessons I learned from working with Nat is the value of self-awareness.  I feel better armed than ever to find my place in what can be such an intimidating industry. And the best part is, the folks at Voyage make you feel like part of their family. They're truly invested in the next generation of artists and filmmakers, from a fundamental philosophy of compassion for the artist, empathy for the struggle, and knowledge-building to help you succeed. It's rare to find a company offering these types of services that's in business for all the right reasons. Don't hesitate to invest in your future with Voyage as your partner."
-Chip Brookes
"One year working closely with Voyage Media has given my collaborator Kass Fleisher and me more insight into the screen trade than the past decade of reading books and watching videos. They know the art and the business of screenwriting and our work with them has been vitally instructive in revealing how industry strategy and storytelling decisions are inextricably linked, from concept through to execution, in composing a commercially viable script."
-Joe Amato
"I've produced a television show for 25 years, so I know how to produce television, but I had no idea how to transform a book into a movie. If you're looking to have your book adapted by a producer, you have to present your project in a way that works for producers.  I'm blown away at the work Voyage has done that.  Producers and the people that pull the trigger are busy and have very little time for details. Voyage has put my book into a format that I can present to anyone at anytime, and they'll know in a couple of minutes if this is a project they want. And that's the key to selling it."
-Michael Fowlkes