INTERVIEW WITH HOT REALITY TV SELLER AISHA CORPAS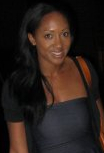 Reality T.V. savant Aisha Corpus has her finger on the pulse of what's hot and what's not in unscripted programming – she recently sold not one but two shows to the networks, both of which go into production later this year. She draws on years of experience in the industry.
Aisha recently sat down with Voyage to share her insights on how to capitalize on the current and future trends in reality.
What's hot right now? What are the networks currently looking for in terms of reality programming?
A couple of things. First of all, what the networks want is always changing. That understood, I'd say that, right now, the networks are looking for loud personalities and unique subcultures to build shows around. Think of "Deadliest Catch" and "Pawn Star" – they are built around a really colorful, intense world or person that people love to watch. If you can find a fascinating world like the Jersey Shore, or a really compelling character, that's what the networks want.
The other thing networks are really interested in is talent that can become a network franchise. This has become increasingly important. Think of Bethenny Frankel on Bravo, or Ryan Seacrest and Kim Kardashian on E! They don't just have one show on that network, they have multiple shows, and they're in the magazines, on the talk shows. They're a walking billboard for that network. When you hear the name of that person, you immediately think of that brand.
The trends in reality programming change incredibly quickly, sometimes literally overnight. How do you stay on top of the industry so that you're pitching what they want next year, as opposed to what they already made last year?
That's true. The trends do change very quickly. And there's no across-the-board trend for all of the networks. The trends for each are based on their viewership. For example, right now another big trend is relationships – "Millionaire Matchmaker" on Bravo, or "The Bachelor/Bachelorette" franchises on ABC. The other networks want their hit relationship show, but that has to be translated into their specific demographic. Another example is Jersey Shore. Once it hit, the other networks wanted their Jersey show, but translated into their demographic. Now Bravo has "Housewives of New Jersey." The Style Network has "Jerseylicious."
My advice has always been this. You have the spark, talent, idea… Then, before you invest months of time and money, do your homework. Research if there's already been shows, shows that have just been picked up. Research to see what the market has been. Then look to see what your target networks will be. Then you start streamlining your focus. Since things do change so fast, it helps to have an industry insider like a producer, network coordinator, agent or even an assistant to talk to. That's where a company like Voyage comes in. If you don't have a personal contact, or want better or more access, Voyage is a company that's breaking the mold in providing those services.
Given these challenges you've been talking about, what's the most important advice you can give aspiring producers of reality?
What I'm going to say here is more philosophical/psychological. If you're going to pursue a career in the reality industry, you need to pursue it with positivity. What I mean by that is, even though there are more opportunities and more outlets than there are in scripted entertainment, reality still takes a lot of hard work. If you want to achieve success, you have to be positive and do the work. You can't just do it because you're jaded and want the easy route to success. You have to believe in what you're doing.