4 Steps To Finally Writing Your Book  
So here you are with a great idea for a book.
Maybe it's your own story, a story based on true events, or simply an awesome idea.
You may have even been sitting on this story for months or years.
Well it's time to finally do something about it…
But where do you start?
I'm glad you asked 🙂
Whether you're working on your tenth book or your first, use these steps to get that story out of your head and on paper.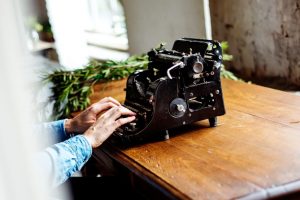 Decide what the book is about
 You may be thinking to yourself, "Yeah, obviously."
But you'd be surprised at how difficult this step can actually be.
Let's say you have a compelling life story—but you have so much material (your whole life!) to draw from that it can be overwhelming.
It's important to boil down the main plot points early on in the writing process so as not to get bogged down in the details.
It's also a good idea to decide on the goal length of your book at this stage too.
That way, you can more easily outline the book ahead of time (and not end up with a 100,000 word epic-novel based on that one week you spent abroad in college).
Set a daily word count goal
We're all busy. We all have things going on that could stop us from writing.
But if now is the right time for you, you need to make time for it.
Make it part of your daily routine, like brushing your teeth or walking the dog.
Even if some days you feel totally uncreative, just keep writing. You may even surprise yourself and find that the act of writing itself will awaken the creativity in you.
And the best part is, the goal does not have to be huge.
Shoot for 300 words per day.
With an attainable goal like one page a day, you'll build momentum and easily hit your goal every day.
Have a set time to work on your book each day
We've all had days when our to-do list is a mile long and next thing we know, it's 5:00 pm and we've done two things.
Don't fall into this trap!
Schedule your writing time—put it on your calendar on your phone or write it in your planner—however you decide to remind yourself, please do!
And if you need to take a day off, just schedule that ahead of time.
Take the guesswork out of your writing, so you can focus on being creative rather than wondering when you will ever have time to write. 
Commit to finishing
Here's a little tough love for you: all the planning, prep & goal setting in the world will mean nothing if you don't complete your book.
Do whatever you know will motivate you to finish your project to completion.
If that means setting a specific deadline, do that. If that means enlisting a friend or family member to hold you accountable, that works great. If you need an incentive, plan a trip for the month of completion.
Whatever you do, do not let yourself off the hook.
You & all of your future readers will be so glad you completed your book 🙂