What do "Hunger Games," "Harry Potter," "Jurassic Park," "The Godfather," and "Gone with the Wind" all have in common?  Obviously, they're all major big-screen successes, but did you know that every one of these film properties is based on a novel? Would it surprise you to learn that many of the most commercially and critically successful movies of all time started on the pages of a book?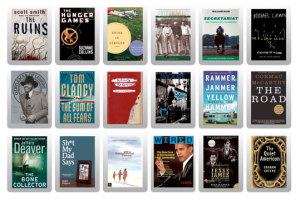 Seven of the top ten highest-grossing movies of all time (when adjusting for inflation) are book adaptations, and in 2015 alone, nearly half of the Oscar nominees for Best Picture are book adaptations (including The Theory of Everything, The Imitation Game, and American Sniper).
So why aren't you adapting a book for the screen yet?  Here are 4 reasons why your next screenplay should be based on a book:
1) "True Stories" are hot right now!
Audiences love movies based on real life events, and the pile of autobiographies and provocative life stories just waiting to be adapted is infinite.  Just watch the dollar signs appear in the eyes of development executives as you pitch your project – they'll perk up faster than you can utter the words, "based on a true story."
2) Adaptations carry more weight than original screenplays in Hollywood
A book provides an established concept with solid characters, which saves both time and money. Bottom line: from a buyer's perspective, an adaptation will be taken much more seriously than an original screenplay.  Regardless of how popular the source book actually is, an adaptation implies that an audience already exists for the story and that it is marketable.
3) Cross-Marketing and Cross-Promotion = $$$
The book promotes the movie, and vice versa. They piggy back on each other and result in greater financial success all around.  There are several recent examples of very successful projects that took this route, such as "Slumdog Millionaire," "Children of Men," and "Silver Linings Playbook."
4) Pick a niche!  Adaptations of all kinds are wildly popular
Some of the biggest blockbusters of all time are adaptations, but now there is a burgeoning market for niche material created for a variety of different media outlets. "How to" books are being made into TV series, autobiographies are becoming TV movies, and spiritual and historical adaptations are doing increasingly well on Video On Demand.  And yes, novels are still becoming blockbusters.  But, now more than ever, online media and new modes of distribution are democratizing the process and making it easier than ever to reach an audience with your work.  The reality is this: All of these outlets need a constant flow of new content, and what better way to fulfill this need than through adapting books that are already established and ready to go?
I know what you're thinking – "How can I, a struggling screenwriter, afford to buy the rights to a book?" The truth is, a great idea is a great idea, and you don't necessarily have to find it on the New York Times bestseller list.  Many books are optioned for a lower price, and then become popular when the movie is released – "Slumdog Millionaire," for example.
Think about genres and perhaps start reading some self-published books that are available for optioning.  Begin thinking about your niche and what market or outlet might be viable for you.  The upfront investment is relatively small, but the payoff can be huge.