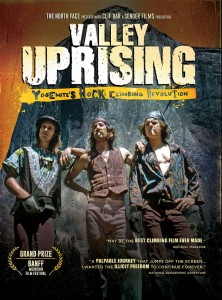 Voyage Media is proud to announce that our documentary,
Valley Uprising,
is set to
premiere
on the Discovery Channel this week as the headline of the newly launched "Elevation Weekend!"
Featuring vintage footage of this once fringe lifestyle and the breathtaking Yosemite landscape, Valley Uprising provides an in-depth look at seemingly unknown aspect of American history…
"We have a purpose…only through climbing can you find yourself," says one of the featured climbers in the surprising and riveting documentary Valley Uprising: Yosemite's Rock Climbing Revolution.
The men and women featured in this film have a passion for climbing that is palpable, and jail time and living on the fringes of society are minor details in their minds… as long as they can be on that mountain.
Don't forget to tune into the Discovery Channel on Saturday, April 25th at 8 PM EST to see this remarkable film for yourself. Watch out "Shark Week," the Yosemite Valley climbers are coming for you!