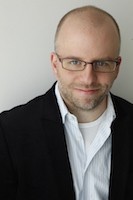 Travis Fickett
Producer
STAR TREK: PICARD
MACGYVER
12 MONKEYS
VIEW FULL IMDB LISTING
What I'm looking For:
Good stories! I specialize in the ACTION ADVENTURE, SCI-FI and FANTASY, DRAMA, and THRILLER content in the SCRIPTED TV and FEATURE FILM formats. But I am open to varied and different genres as long as I believe in the story!
About Me:
Most recently I shot a pilot for Disney based on their WITCH MOUNTAIN IP and, pending the Writer's Guild strike, will be taking that to series for Disney+. It's a re-imagining of the movies and stars Bryce Dallas Howard and two young new comers, Levi Miller and Isabel Gravitt.
Prior to Witch Mountain I served as a consulting producer on STAR TREK: PICARD which re-united Patrick Stewart with his Star Trek: The Next Generation crew and had a triumphant return to form.
Keeping things within the CBS Family I was a consulting producer and writer on Season 4 of MACGYVER (the reboot with Lucas Till in the title role) and had to come up with lots of ways for Mac to get out of trouble with science and ingenuity.
In 2017 I developed an animated series with Riot Games based on their enormously popular video game LEAGUE OF LEGENDS. We developed a season of story, visual and character development and test animations before a change of guard at the top nixed the project. But I learned a great deal about the animation process and shepherding video game IP during this time.
From 2014 to 2017 I served as co-creator, executive producer and co-showrunner of SyFy Channel 12 MONKEYS. I left in the final season to pursue solo opportunities (namely the Riot project).
I made my bones as a TV writer on the shows TERRA NOVA in 2011 AND NIKITA (with Maggie Q) in 2012-2013).
In addition to this produced work for television I have developed film and TV projects for USA, Warner Bros, Sony, New Line Cinema, and even the short lived Quibi.
Prior to getting my WGA card, I worked as both a television critic and a feature film executive for a variety of companies, developing projects such as MEMENTO, DONNIE DARKO, THE MEXICAN and a variety of other independent projects.