STEP 2: Scroll down to select this producer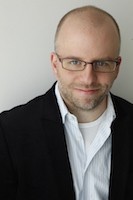 Travis Fickett
Producer
12 MONKEYS
NIKITA
TERRA NOVA
VIEW FULL IMDB LISTING
What I'm looking For:
ACTION ADVENTURE, SCI-FI and FANTASY, DRAMA, and THRILLER content in the SCRIPTED TV and FEATURE FILM formats.
About Me:
After selling two projects to Universal Cable Productions, Travis, along with Terry Matalas, got the series 12 MONKEYS greenlit to production for the SyFy network. The series was critically acclaimed and renewed for three more seasons, which finished airing in 2018. While busy with 12 MONKEYS, Travis continues to work on multiple television and film projects in various stages of development.
His journey to the Hollywood success was long and winding – leaving him with a variety of experience in both how to and how not to do things. It all began with his graduating from film school at Emerson College in Boston. Travis soon began his career as a film executive and story consultant. He worked at upstart companies like Newmarket Films, Summit Entertainment, Primary Picture and studio mainstay Mandeville Entertainment.
After having an epiphany while at the Cannes Film Festival – he decided to leave the development world behind to become a professional writer. This route took him into the world of entertainment journalism where he worked for IGN.com as a television critic. He used this position to study the medium of television and more specifically the craft of writing and running television series.
After knocking on the door of Hollywood for a few years, he sold his first project – a romantic comedy film – to Warner Bros with director Todd Philips (THE HANGOVER). He then spent two years on TERRA NOVA for Fox. From there he went on to be Story Editor on the critically acclaimed series NIKITA for the CW. After the fourth and final season of Nikita – Travis went on to create and run 12 MONKEYS.
Currently Unavailable
Get all the help you need.
Select from the options below to begin the journey of bringing your project to the Hollywood market.
Pitch a Producer

Pitch your book adaptation, film/TV idea, or script concept directly to Travis Fickett.

If your application is accepted, Travis Fickett will review your short submission, then spend an hourwith you by phone - you'll pitch your story and share your vision and goals.Travis Fickett will then provide you with insight into which market your story is best suited, and deliver a written strategicroadmap for how best to develop and market it to the film/TV industry.

Do

Read more »

---