STEP 2: Scroll down to select this producer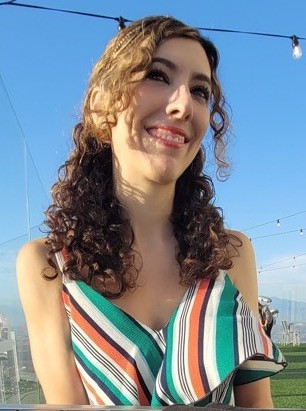 Kelly Lansing
Producer
BUNK'D
RAVEN'S HOME
HIGH SCHOOL MUSICAL THE MUSICAL: THE SERIES
WHAT I'M LOOKING FOR:
FEMALE-DRIVEN COMEDY, LIVE-ACTION KIDS, POINT OF VIEW and FAMILY in FEATURE and SCRIPTED TV FORMATS
ABOUT ME:
Kelly Lansing is a writer and producer from Buffalo, NY who has been in the industry for close to a decade, the past four and a half which she has spent working in Disney Branded Television Current Series on Disney Channel and Disney Plus kid show favorites such as RAVEN'S HOME, HIGH SCHOOL MUSICAL THE MUSICAL THE SERIES and BUNK'D.
She started her career working on productions of all shapes and sizes working in PA / coordinator / AP/ AD roles on shows such as DRUNK HISTORY, THE APPRENTICE, PAWNOGRAPHY and ANOTHER PERIOD as well as working as a development and casting producer on reality shows. Before that she got experience working in nearly every facet of the industry: interning at CAA, working in locations for film/tv crews, as well as working in product placement and production resources, film finance and marketing.
A strong collaborator, Kelly has spent countless hours in joke punch-up sessions and writer room settings and enjoys helping others develop their ideas into television series — from pitch to pilot script. A fan of greenlighting yourself, she also has experience in producing her own projects, including a cult podcast hit called RADIO ZED as well as getting together production crews to shoot smaller TV passion project sizzles as well as creating effective, visual pitch decks, and verbal pitches, ultimately pitching them around town to great reception. (Ask her about Lee & Bree and Lemonade.)
She completed the UCB sketch writing program, was voted Best Writer two years in a row as part of her Sketch/Improv group, was a sketch writer finalist for the ABC Talent Showcase and was recently chosen as a shortlisted comedy writer for Coverfly's Pitch Week. She most recently was on a stretch assignment in the writer's room for the Disney Channel sketch comedy show HOUSE PARTY and is currently shopping a popular memoir adaptation for TV around town called WIDE OPEN, as while as a book of her comedic essays called NOTES FROM A BASIC WHITE BITCH (Who Would Much Rather Not Be).
Kelly is a Television/Radio/Film graduate of Syracuse University's S.I. Newhouse School of Public Communications and is currently working on her MBA from Boston University.
Connect Now!
Get all the help you need.
Select from the options below to begin the journey of bringing your project to the Hollywood market.
Pitch a Producer

By Application Only

Pitch your book adaptation, film/TV idea, or script concept directly to Kelly Lansing. If your application is accepted, Kelly Lansing will review your short submission, then spend an hour with you by phone - you'll pitch your story and share your vision and goals. Kelly Lansing will then provide you with insight into which market your story is best suited, and deliver a written strategic road map for how best to develop and market it to

Read more »

---